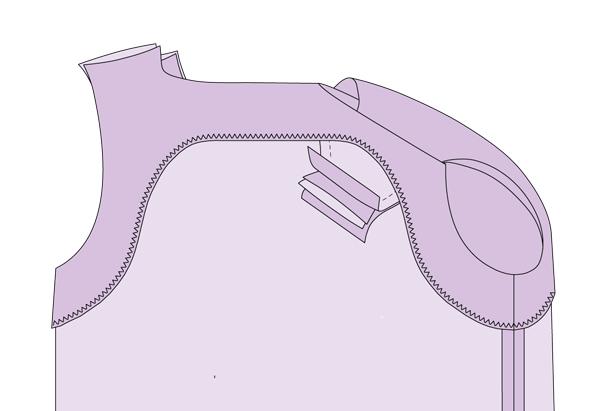 All-in-one facing – method 2
Recently I shared what in my opinion is the easiest way to finish the neckline and armholes of a sleeveless garment. However it only works for styles with a middle back seam. If you don't want to add a middle back seam, here's a different way to finish an all-in-one facing. It's slightly more complicated but hopefully these illustrations make it less intimidating to try!
Stitch side seams of both garment and facing. Pin facing in place on the right side of the garment and stitch front and back neckline and both armholes, leaving about 1 1/2″ (3 cm) open towards the shoulders.
Press, understitch and turn facing to the wrong side. Then push in the back shoulder so that its wrong side is facing outwards.
Place front shoulder inside the back shoulder, making sure there are no twists, and match the edges.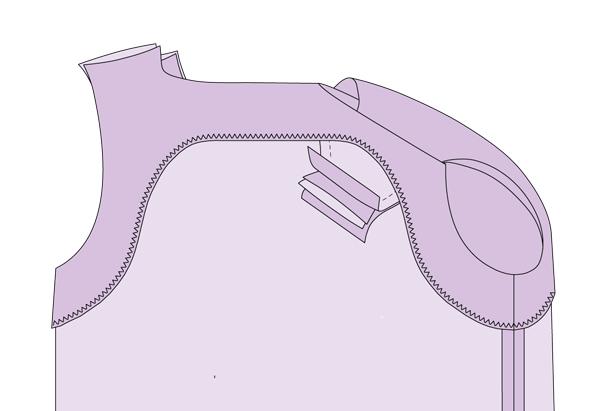 Pin shoulders together, front facing to back facing, front bodice to back bodice. Stitch both shoulder seams.
Pull out more of the shoulder, so that all the unstitched edges are visible. Press shoulder seams open. Stitch the open edges, making sure that the inside layer does not get caught in the stitch.
Repeat for other shoulder, press facing back in place on the wrong side of the garment.