How to sew with a double needle
I'm working on some patterns for knit fabrics at the moment. Since a lot of people seem to be scared of sewing knits, I thought some tutorials might be appreciated. Finishing hems on knits can be tricky if you don't have a cover stitcher, but not to worry, you can get pretty much the same results with a twin needle and your regular sewing machine.
A twin needle will give you two parallel lines of stitches on top and a zig zag underneath. This keeps the stitch stretchy, yet neat on top.
All you need is a twin needle compatible with your machine. There are several widths available.
When threading, use two spools of thread, the second can be a bobbin. In my machine there's a pin for the extra spool, check your manual to find out how to attach the second spool as it varies by machine.
Thread as usual, treating the two threads as a single all the way down to the needle, where you separate the threads and put each through its own needle.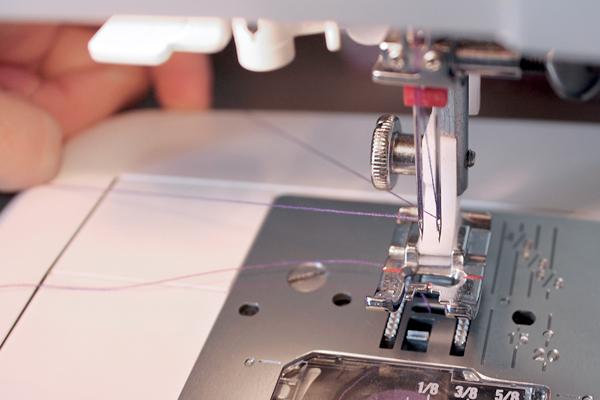 Use plenty of pins to make sure you'll catch the edge underneath when sewing from the right side.
And here you have it! Professional looking and easy. I wanted a tiny hem for this project, if you're a beginner use a longer stitch length to get a neat result. The key is not to stretch the fabric when sewing.