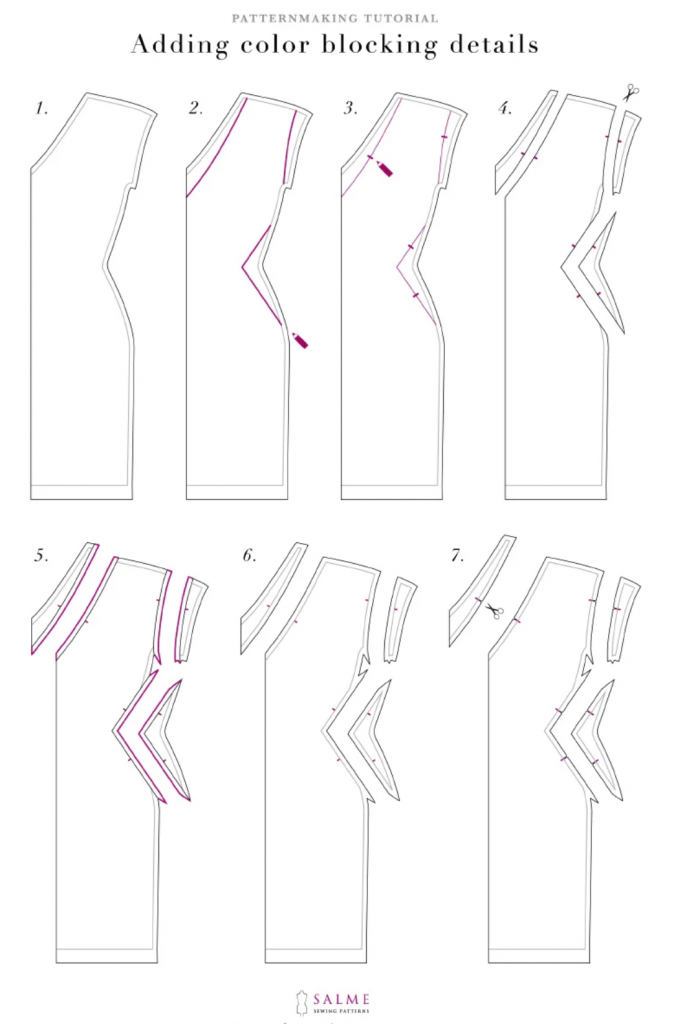 Adding color blocking details
Color blocking is a fun and easy way to add your own flare to a simple design. Today's patternmaking tutorial will show you how to cut a pattern into blocks of different colours or fabrics.
I'm working with the V-neck cap sleeve dress pattern. This is a simple design without darts or closures, perfect for color-blocking!
Make sure to test how the different fabrics work together before you choose them. Fabrics of similar weight work well together. The easiest option is to mix different colours of the same fabric. However, with sheer insets being the trend right now you might want to mix a lightweight fabric with a medium-weight one. I have successfully combined very delicate chiffon with wool suiting so it can be done. Just make sure you're not stretching the thinner fabric when sewing and consider adding a stabilising tape to the seams to reinforce them.
1. If you're working with a pattern that includes seam allowance, I recommend drawing the seam lines on the pattern. This way you won't get confused with which edges have seam allowance included and which don't.
2. Draw the lines for color blocking. As long as you steer clear of the bust apex you can pretty much play with the lines as you wish. Sharp corners will of course be more difficult to sew, whereas simple lines will fit together easily.
3. Add some notches. As a general rule, try not to place notches right in the center of the line. Otherwise you might get confused with which end is which.
4. Cut off the new pattern pieces.
5. Add seam allowance to the edges we just cut. Think about which direction the seam allowance will be pressed after the seams are sewn. I plan to press the seams open and topstich on both sides of the seam. Therefore the seam allowance is always mirrored from the main piece, like in this tutorial.
6. Here are your new pattern pieces!
7. Extend the notch markings and clip notches. Repeat for back piece, making sure that the details match at side and shoulder seams.
Start the sewing by first stitching the color blocked pieces together. After that you can just treat the pieces as the original pieces. Seams of color blocking pieces will function as notches – make sure they match perfectly.